We've been paddling for a week now and thought it time to update the blog
Therese and Kevin left Svinesund on the morning of Friday 8 June, Norwegian flags flying from white houses on the right and Swedish flags on red coloured houses on the left. A gentle tailwind pushed us South in bright sunshine to a lunch stop opposite Koster on Rossö. We continued South into an increasing headwind through small rocky islands. The bird life was amazing, terns flying close overhead, many geese and oystercatchers. We were lucky to camp above a sand beach on Ullsholmen after a very enjoyable 55 km day.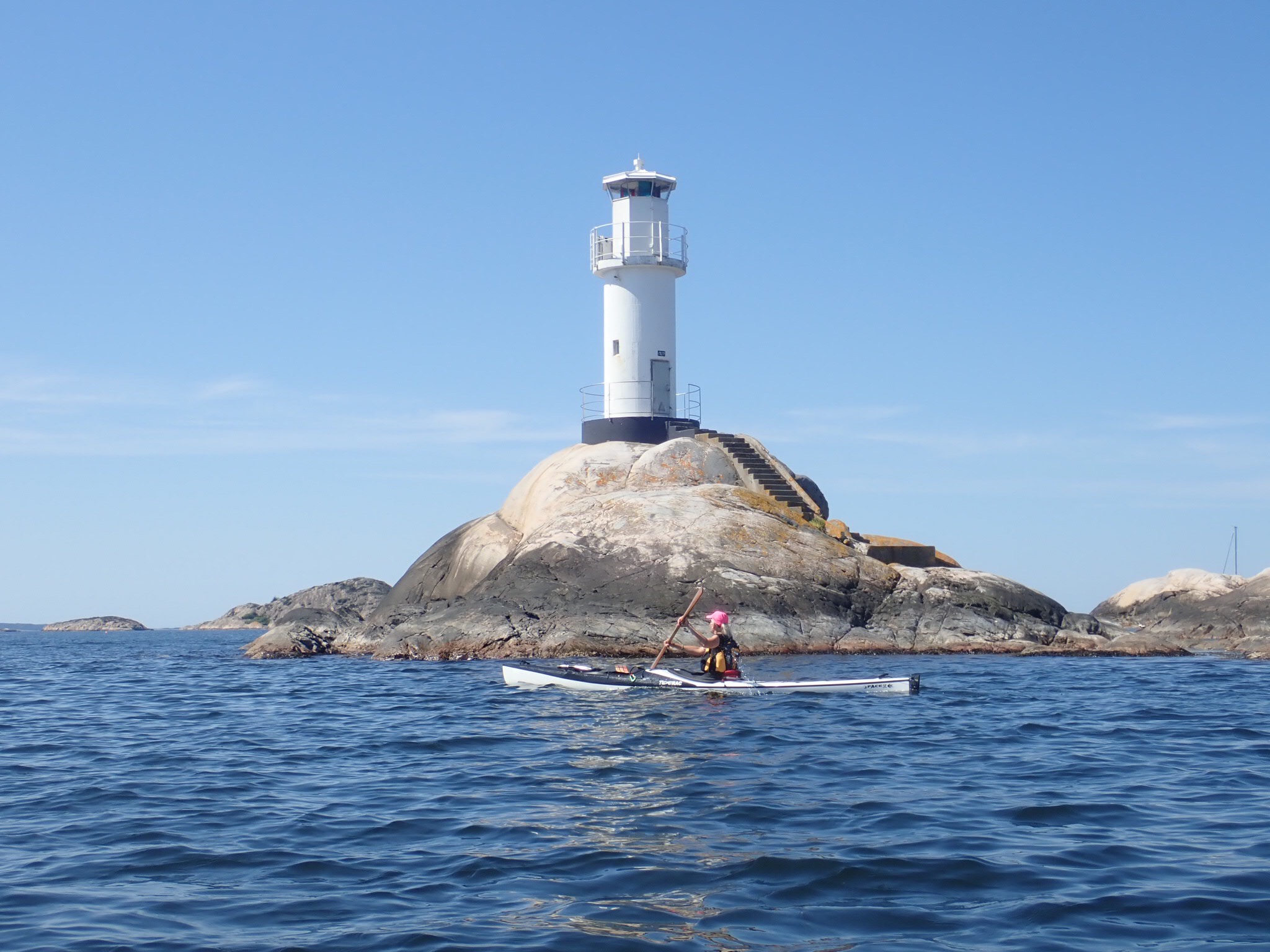 Our second day dawned bright and we pushed South in sunshine, working towards Hamburgersund, which proved surprisingly hard to find. This town was for big boats but we found the slipway, with 4 kayaks on it and some friendly paddlers too. A great burger stop and a trip to ICA and the water tap and we were all set to continue. We enjoyed our first open crossing of the trip and reached rocky headland. Paddling South into the evening the shore was steep and no landing sites came to mind. Just North of Smögen at Skepshällarna we found a smooth ledge beside a tiny inlet, an ideal campsite and a good spot for swim too. A 42 km day.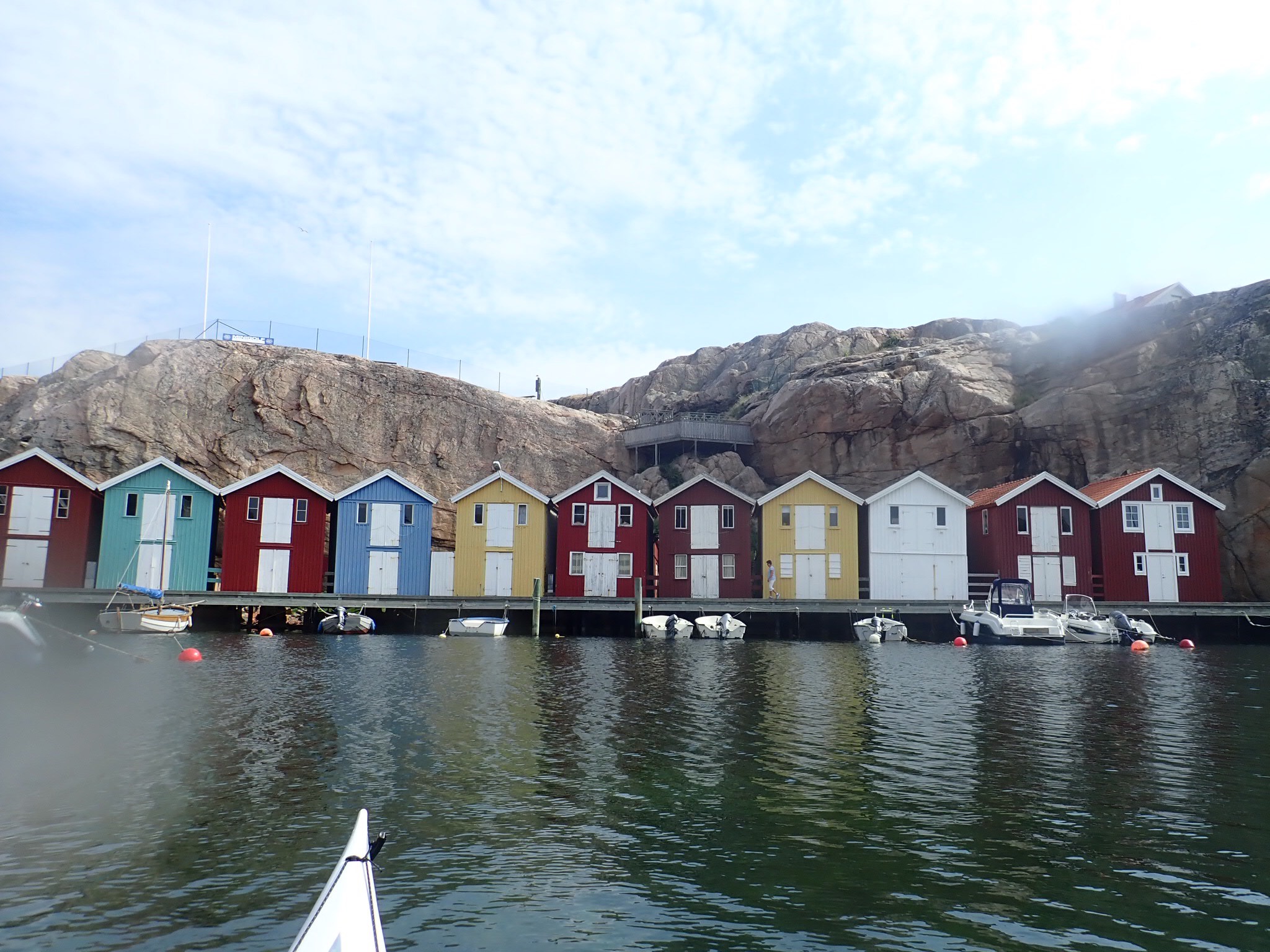 On Sunday 10 June we launched a little later than usual and headed for Smögen. Just north of the town we met two Dutch sea kayakers, heading South too on a three week tour. As we approached Smogen a fishing boat showed us the secret entrance, appearing the head straight for the cliff and then just vanishing. We took the same line and found ourselves in a narrow channel only a few metres wide leading into the top of the harbour. The wooden fishing sheds and houses told of a bygone era whereas the big shiny yachts smelt of the wealth of today. We had to look hard for a place to land, eventually paddling between two houses just past the lifeboat station. We both wanted to use this trip to explore interesting places and get close to the wildlife and the nature. After a quick look around and a welcome coffee stop we set off once again. We paddled on a bearing to Tan, passing East of the two lights of Dynabrott and Branskärsflak. We picked up the lighthouse of Gaven and passed west of Tjallso, finding some rough water with and a South Westerly F5 gusting 6 against the tide off Islandsbergs light. Approaching Gullholmen from the North it looked like a model village. It was a joy to glide into calm waters to the East of Gullholmen and camp just a few km South. The rain set in and the midges came out in force so we cooked under the tarp and sought shelter inside the tent. A 36km day.
We awoke on Monday with a 10 m per second wind from the South but due to turn from the North late in the afternoon. We launched at a lazy 10.0 a.m. and island hopped South into the wind at a rather slow pace. There were seals checking us out every now and then and skeins of Canada geese flew in formation overhead. We took a long and rainy coffee stop in a very sheltered bay at Sandvik before making a hard push to Mollösund where we had hoped to pick up supplies. There was a welcome kayak landing stage in the harbour but the place was pretty much all closed up. A small cafe was the only place open and we devoured a portion of chips and sweet fizzy drinks. Returning to the boats the wind turned to a Northerly and we happily sped South. Weaving between islands we passed Skärhamn on Tjörn and paddled under the bridge at Klädersholmen. At the narrow channel at the South West tip of Tjörn we saw the ferry rolling wildly as it left the shelter, a sign of things to come.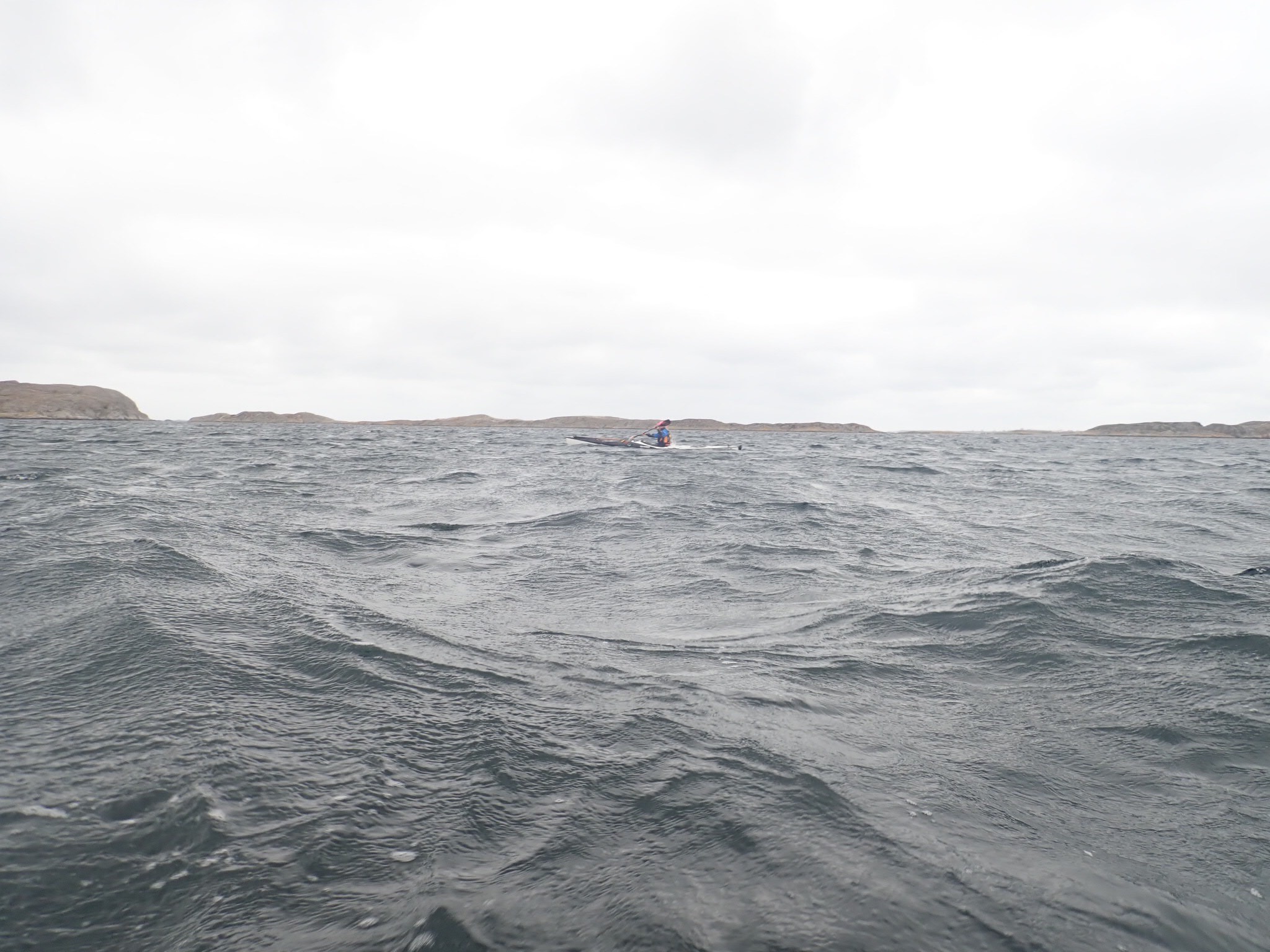 As we headed out past Åstol the seas were very short and steep, at least 4 m high but thankfully not breaḱing. The 4 km crossing to Marstrand was a rollercoster with both kayaks jumping and crashing down the steep wave faces. It was great fun but I was relieved to paddle past the lighthouse and into the pretty town of Marstrand, with its fortress on the hilltop and wooden buildings along the shore. We found a slipway and came ashore just as the man who lowers the flags was going about his rounds. He recommended the Hotel Nautic and made a call to check they had rooms. They did and it was good value and comfortable too. We slept like lambs, enjoyed the shower and a few simple luxuries. 42 km paddled, but more than half of that after 5.00 pm.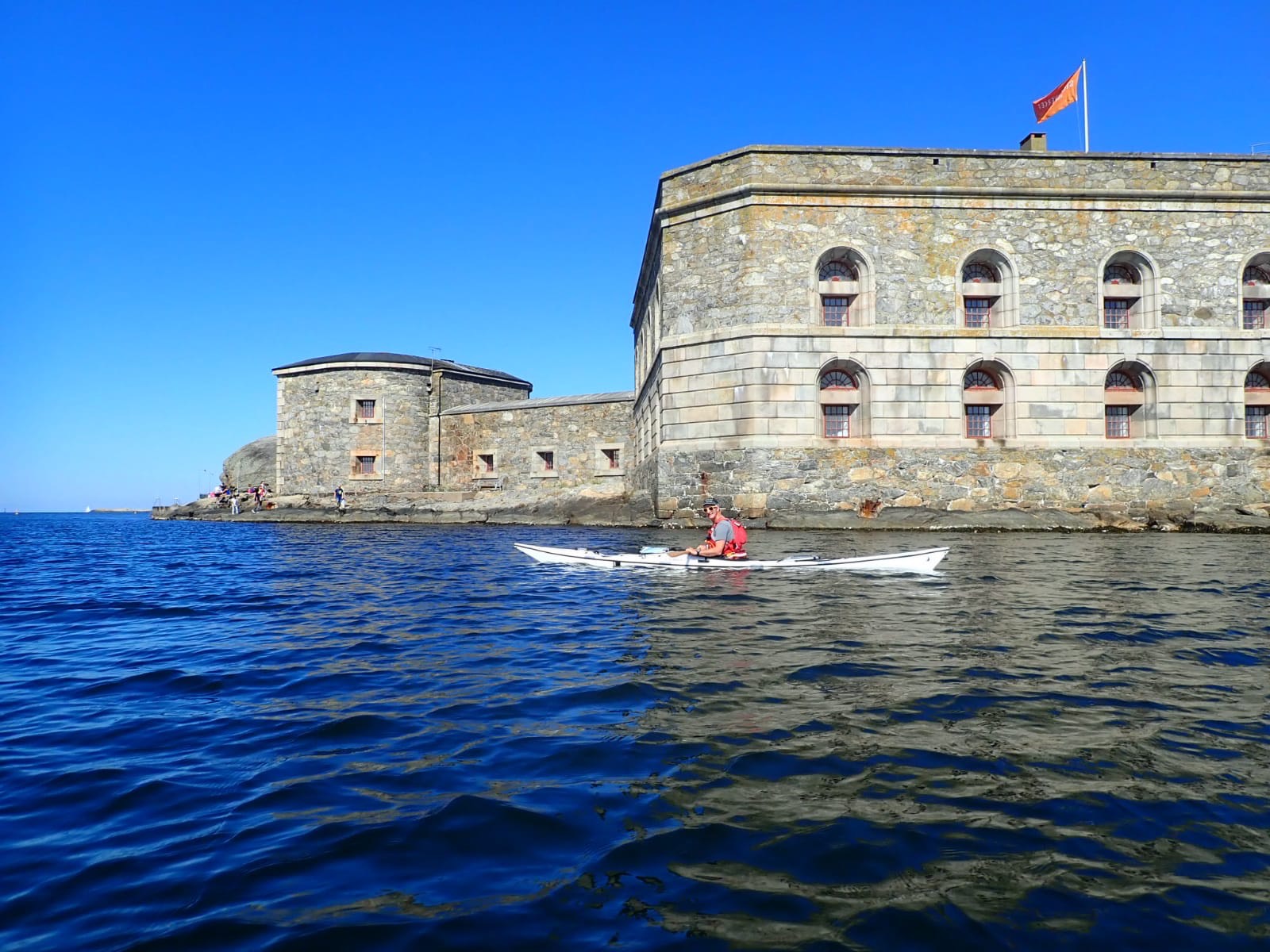 We took some time the next morning (Day 5, Tuesday 12 June) to explore Marstrand, the castle and the town and decided it was a place that we must come back to. We left at 10 and headed South to Rörö, passing along it's East side. The houses on the shore were empty and clearly just for holiday use only. We stopped for lunch and a swim opposite Hyppeln and noticed the yellow car ferries darting between the islands. Passing along the East sided of Öckerö and Hönö the land was mostly industrial and unwelcoming. We slipped into the main channel opposite Gothenburg and took a bearing to the other side. Two big marked shipping channels and some pretty fast ships made this a place to put behind us. We both felt the sharp contrast between this and the island tranquility we had just left behind. After the shipping lanes we found a quiet shallow channel heading South through a residential area leading to a beach on Styrsö. Paddling South we made the crossing from Dansö to camp on the islands just west of Sörö. Our first potential campsite was home to many nesting birds (noisy Oystercatcher, Canada geese and a swan) so we quietly retreated and found another rock with a perfect flat slab to pitch the tent. The day was rewarded with a beautiful sunset to remind us that things were good after all. 54 km paddled with a total of 229 km so far.
After a dry night on another rock we headed South on Wednesday under a cloudy sky. The sea was quite lively close in and we enjoyed a little rock hopping and felt the power of the waves. It was slow going into a Force 3, gusting 4 South Westerly. Navigation was proving tricky on this stretch as a low wide rock at 400 m looked just like an island at 2 km! We stopped for a fika at 11 in a rocky cove and then tried to head inside Onsala Sandö, only to find it was dry! Half and hour or so later we landed on the North side of Malön on a perfect sandy beach in sunshine. A grassy camping spot was so so tempting but we made it a food stop and continued on our way. Leaving the shelter of the island the waves ramped up steeply and both boats began bucking and plunging with a Force 5 on the beam. The three towers and cranes of a nuclear power station dominated the view as we took a direct line for Bua. The sea state dropped as we reached deeper water and the 10 km open crossing proved to be very enjoyable. Approaching Bua we both noticed that the water felt appreciably warmer! Bua is no beauty spot but we were very glad of a sandy beach to land on and the one restaurant in town. 37 km paddled.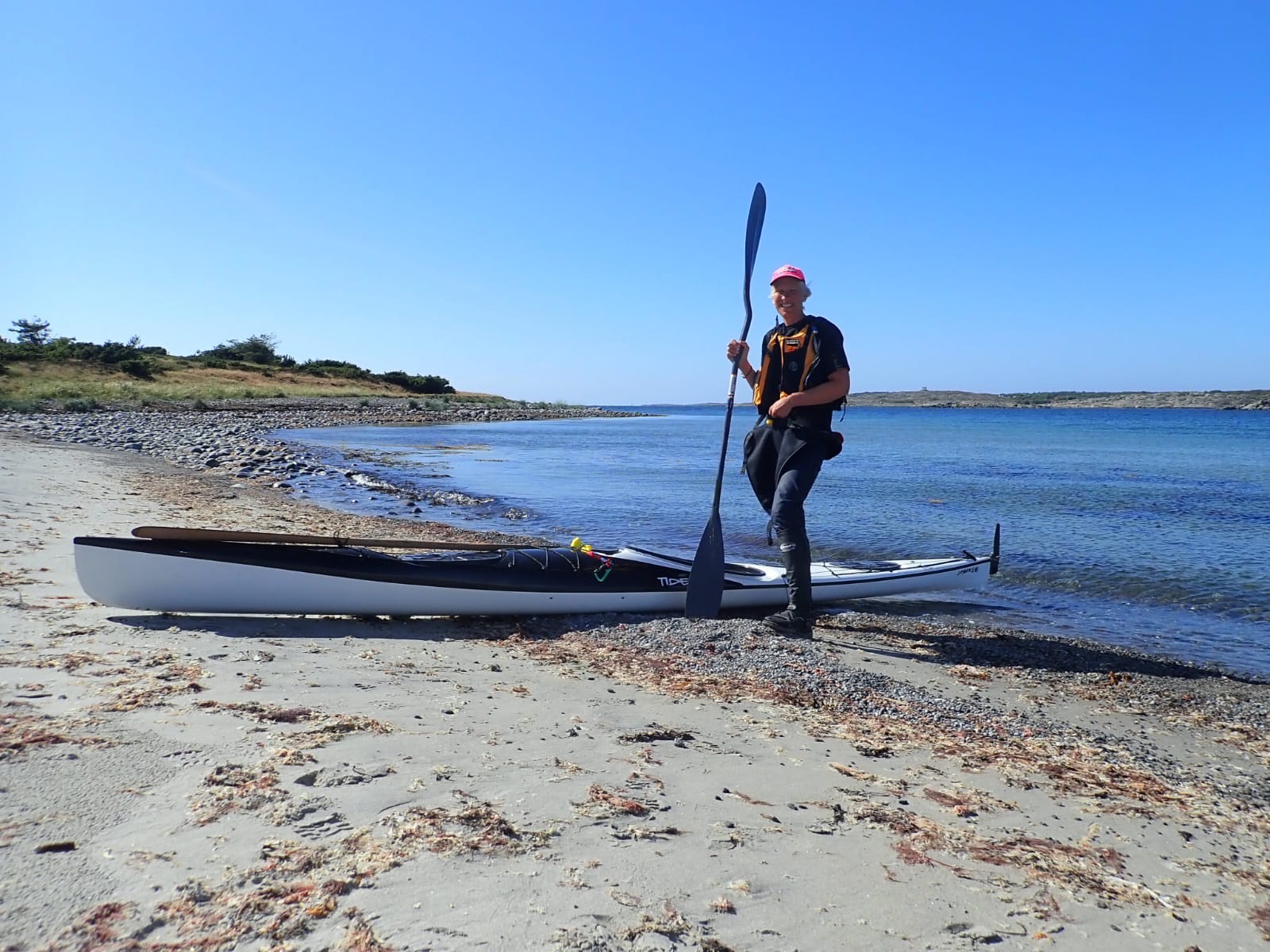 Thursday 14th June was as forecast a windy day, 10 m per second in the morning from the South with the strength increasing in the afternoon. Based on our experience from a few days earlier we decided that this would be mighty hard work for not much gain and felt it best to take a rest day, have some recovery time and set off more strongly tomorrow. We are getting used to the power station but looking forward to paddling tomorrow. No paddling today, 266 km in total.