Lettmann Kayaks
When looking for a supplier of well-made kayaks for our expedition and coaching use we quickly beat a path to the Lettmann factory in Moers, Germany. Their boats are extremely well made with tremendous attention to detail. Lettmann is a family firm with it's roots in Olympic competition paddling. Three generations of the Lettmann family work there and they are super knowledgeable, friendly but most of all produce world class kayaks and paddles.
We find that the Lettmann sea kayak designs work particularly well for their chosen purpose. Each kayak is made to order and there are three grades of construction from glass (DCS), to carbon (LCS) and finally vacuum bagged carbon (VCS). You can specify a day hatch of different sizes (we recommend 200 mm), sweetie hatch as well as add a fitted compass. We recommend having the toggles at either end fitted through a hole rather than being glassed into the boat. The foot rest consists of a movable plate so you can work through your feet without having to assume the pose of a frog. The seat is comfortable and well padded, especially at the sides.
We are able to supply any of the Lettmann range of sea kayaks and paddles in Sweden.
Take a look at their web-site on Lettman.de to see the full range of kayaks and use the configurator to select your favourite colours for the hull, the deck, the cockpit rim, the seams and the deck lines. You will need your German translation for some of the terms but it's relatively obvious.
---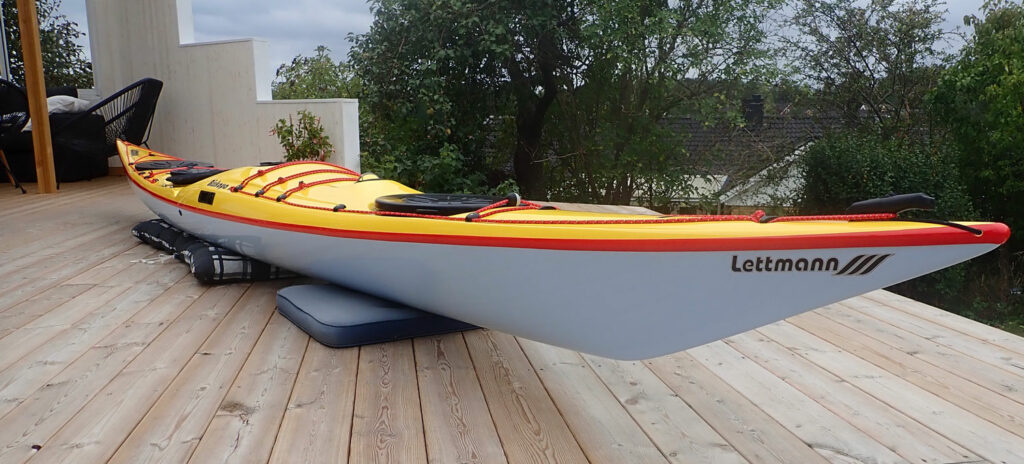 For our own use we love the Biskaya as an expedition boat. It is intuitive to paddle with a light and responsive touch with just enough rocker and plenty of speed. The boat is very well mannered in waves and sits well on the water. The large bow and stern hatches make it easy to pack tents and other larger items. The sweetie hatch in front of the paddler is surprisingly long, we've started putting a storm cag in there as well as the obligatory sweeties.
The Biskaya is available in three sizes, LV, MV or HV to suit the small, medium sized or large paddler as can be supplied with a standard Kayak Sport skeg or the unique Lettmann skeg/rudder. This works as a skeg until it's fully down but becomes a rudder when all the way down. This is useful for those who have trouble with edging as their main way of steering and is protected from damage when coming ashore, once the skeg is retracted.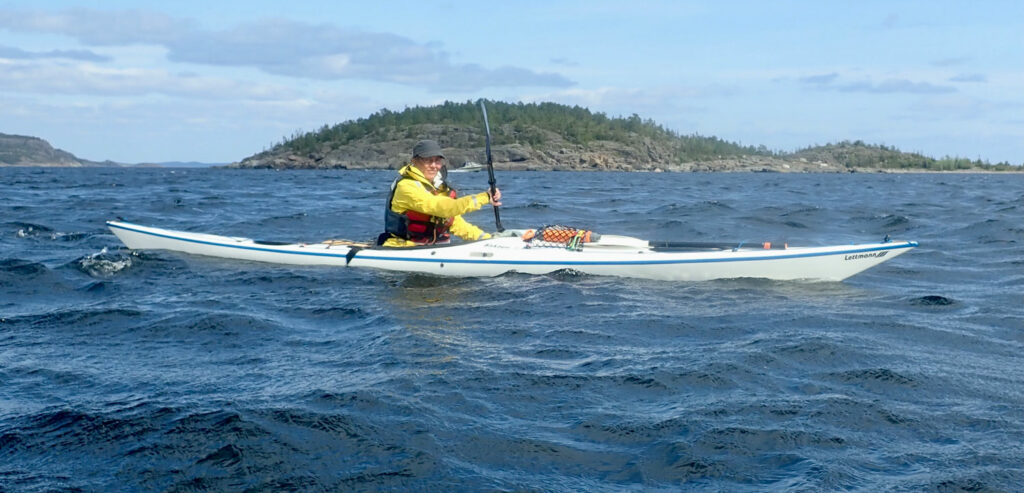 ---
The Skinner is a modern take of a Greenlandic design. It's a long supremely elegant kayak with a Swede form hull, widest behind the cockpit and a finely tapered overhung bow and stern. The Skinner is very fast and responsive and turns remarkably well on edge. In waves and chop the fine bow and stern soak up the energy and the boat maintains its speed whilst others around you start to bump and slap. It's available in one size and has a surprisingly large carrying capacity.
This has become the boat of choice for both Therese and Kevin for paddling on the East coast of Sweden. It's great fun to paddle and soaks up the distance so easily.
We have demo boats of the Skinner, the Biskaya LV and Biskaya MV available for you to try, either from our base in Söderköping or from the island of Harstena. Get in touch if you'd like to try them out. We are very happy to arrange a demo paddle to let you experience these fantastic kayaks with no obligation at all to buy. If you are interested in a boat then we can help you decide on the right specification for your needs and are happy to supply a quotation. The exact price will depend on your specification and the exchange rate at the time of ordering.
This has become the boat of choice for both Therese and Kevin for paddling on the East coast of Sweden. It's great fun to paddle and soaks up the distance so easily.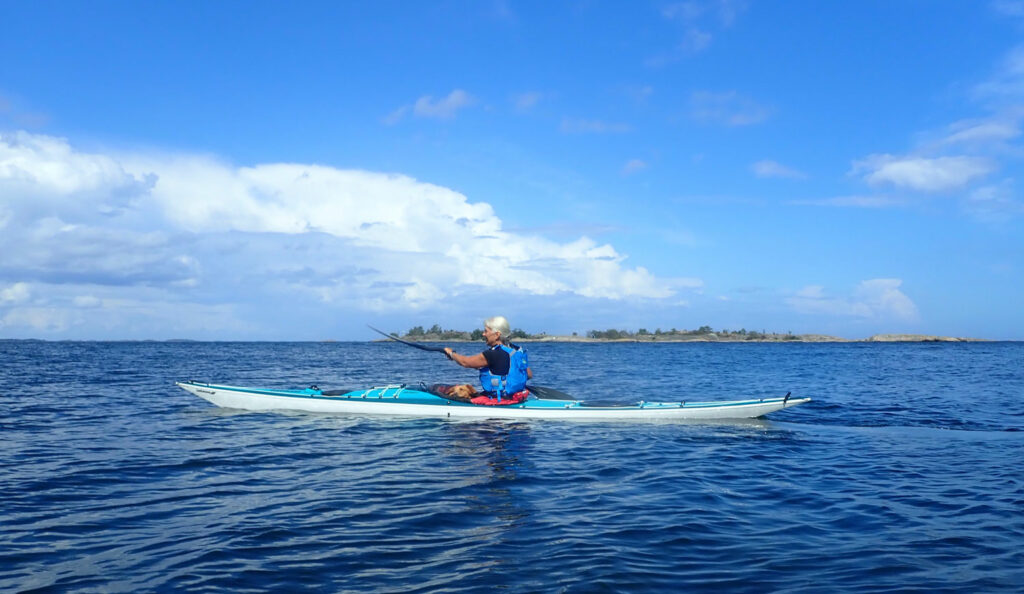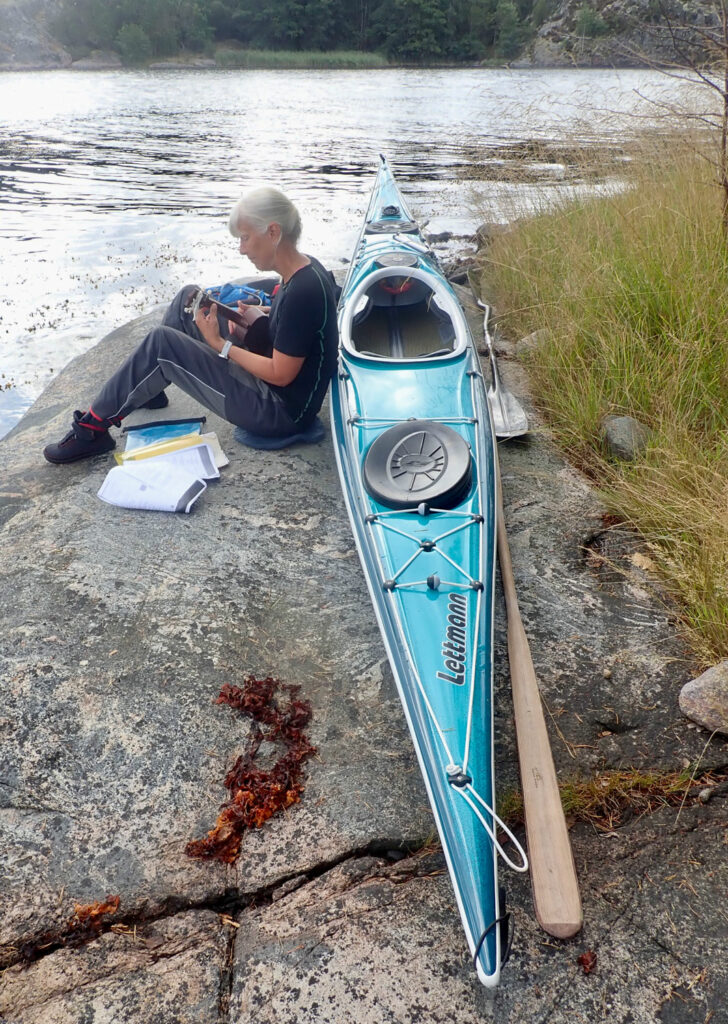 ---
Biskaya in skeg form
Construction type
–
–
DCS
LCS
VCS
Prices* (Swedish Kronor)
28,000
36,150
42,300
Sweetie hatch
1,730
Day hatch
1,730
Laminated bulkheads
850 each (2,550 for 3)
Toggles through holes
500
Silva 70 P compass
1,100
Total price:
*Including Swedish MOMS @ 25%
35,610
43,760
49,910
For the Skinner we don't normally include the day hatch as we like the large rear hatch space and find that the longer than usual sweetie hatch is great for on the water needs.
Skinner in skeg form
Construction type
–
–
DCS
LCS
VCS
Prices* (Swedish Kronor)
29,120
37,250
43,400
Sweetie hatch
1,730
Day hatch
1,730
Laminated bulkheads
850 each (2,550 for 3)
Toggles through holes
500
Silva 70 P compass
1,100
Total price:
*Including Swedish MOMS @ 25%
35,880
44,010
50,160
---
Lettmann Paddles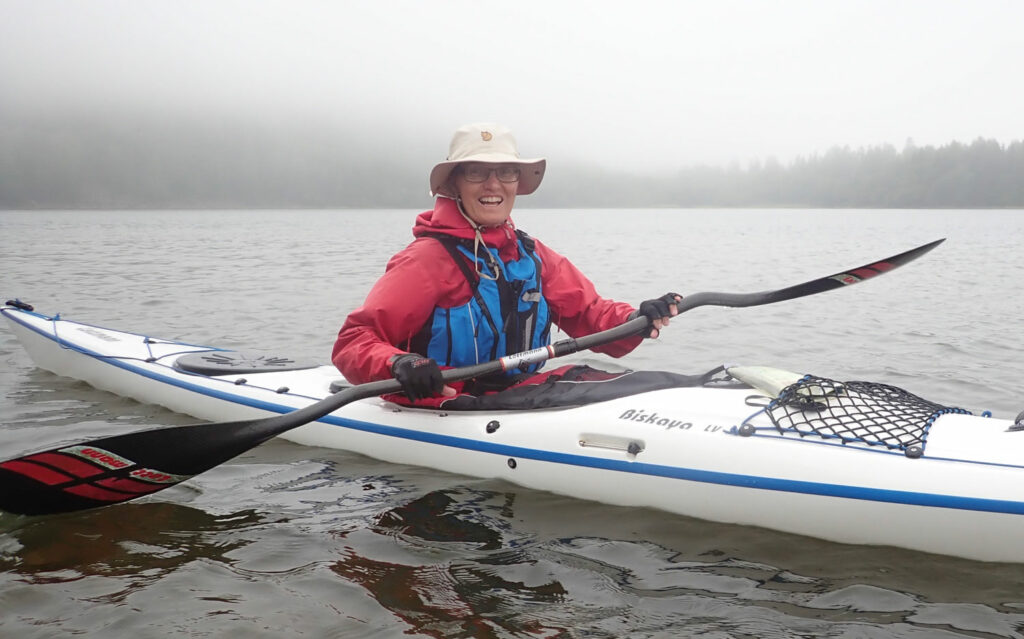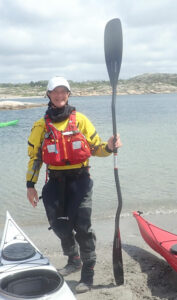 Ergonom Pro Sea Carbon LCS 70.
(Price 6270 Kronor inclusive of MOMS)
Paddles are a very important but often rather neglected personal choice. Therese and Kevin have both been using the small bladed Ergonom Pro LCS Sea 70 light paddle from Lettmann for the past four years and we offer them to our coaching and expedition customers to use. This carbon euro blade paddle is made in two pieces and comes with crooked crank shaft, with a much longer holding section than other well-known makes. An easy to adjust central locking joint allows you to change the feather or make the paddle longer or shorter whilst on the water. The blade and the shaft are made as one piece so they are super strong. The blade has a foil shape with built in buoyancy that helps it to float when you paddle. There are two blade sizes, large or small (both the same price) and the paddle can be ordered with the adjustable shaft length of your choice.
We have these available for demo so do get in touch if you'd like to try them.

Lettmann Greenland paddle – The Blacklight (Price 6700 Kronor inclusive o
Sadly Lettmann have stopped making this very light and wonderful paddle. We have one in stock for 6700 kronor. It's a collectors item no wand rather speciial.
We've worked with Steve since he began making kayaking gear in the shed at the bottom of his garden in Devon. Now with a larger modern unit Whetman equiment is making what we believe are the best towing systems available. At BlueCoast Adventures we try to keep Sea-Guide, Sea Beans and contact tow lines in stock, despite difficulties with Brexit and distribution from the UK to Sweden.
Guide Tow Line (14 m)
(price 1230 kronor, inclusive of MOMS)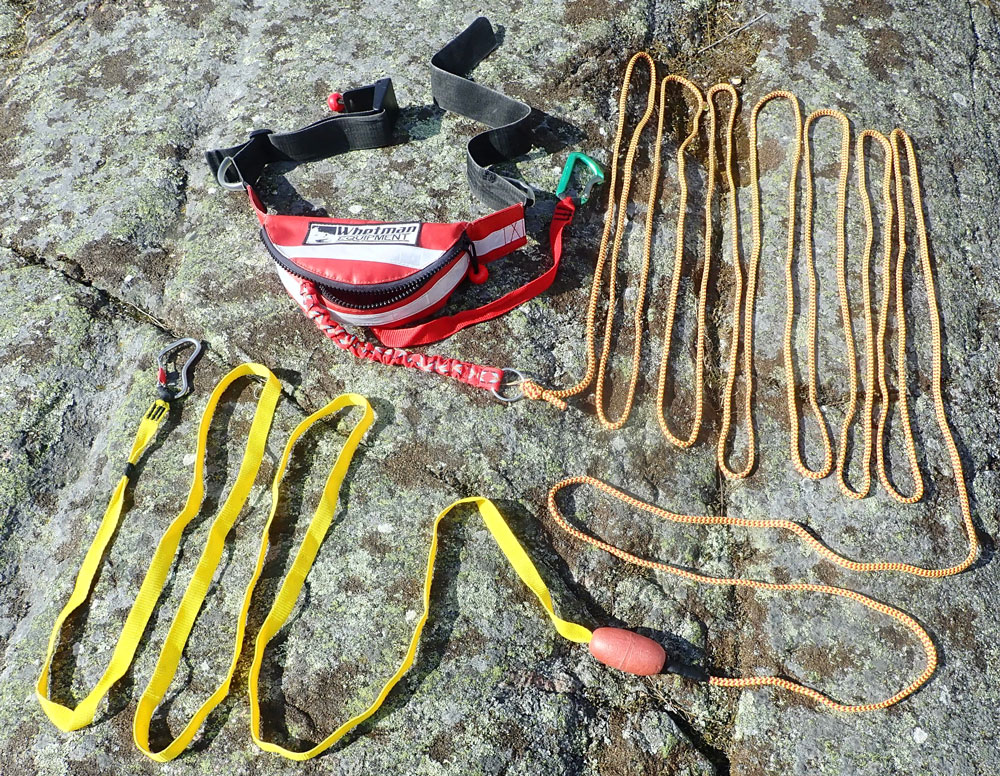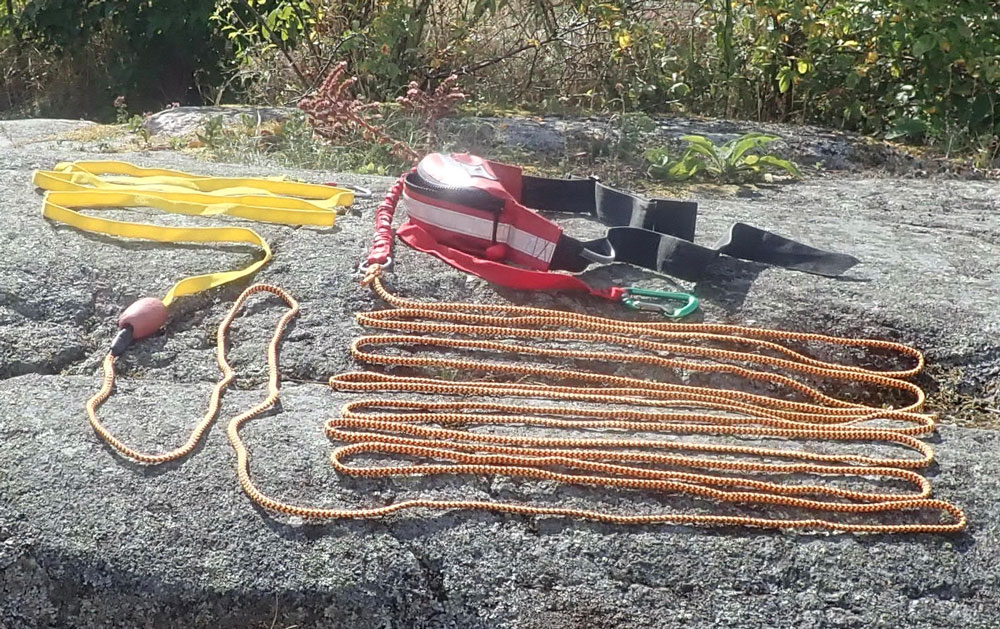 The 14m "Guide Tow-line" from Whetman equipment is really two tow-lines in one
A 14 m floating line main tow is clipped to the left side holding loop on the waist belt, and a shorter 50 cm contact tow is attached to the right side connecting loop. The Guide tow-line has been designed for those who tow often and has a really well made bag, large enough to re-stow the line on the water and with flotation included together with a plastic large toothed zip that won't corrode. The bag has reflective tape sewn into its mid-line and the waist loop has a captive O ring in the centre of the bag to which a 40-60 cm length of shock-absorbing bungee is attached. This keeps the release buckle centred when the tow is under load. A steel O ring is found at the join between the bungee and the floating rope tow line. For a short tow the working krab can be attached back from the casualty's boat to this ring.
Kevin was involved in testing the Guide tow-line on the north Cornwall coast and has been a committed user of one ever since. On his own Guide tow-line the working end has a 3m section of floating tape attached to the kraken krab with vulcanising tape to give a flat connection that will easily run through deck lines without snagging when released. The float is movable and close to the join with the floating line.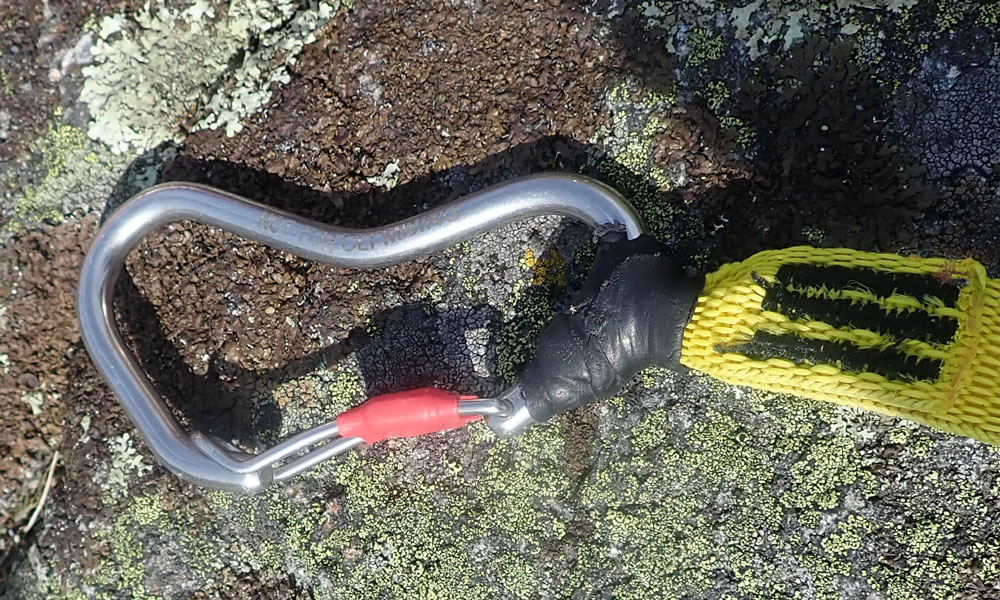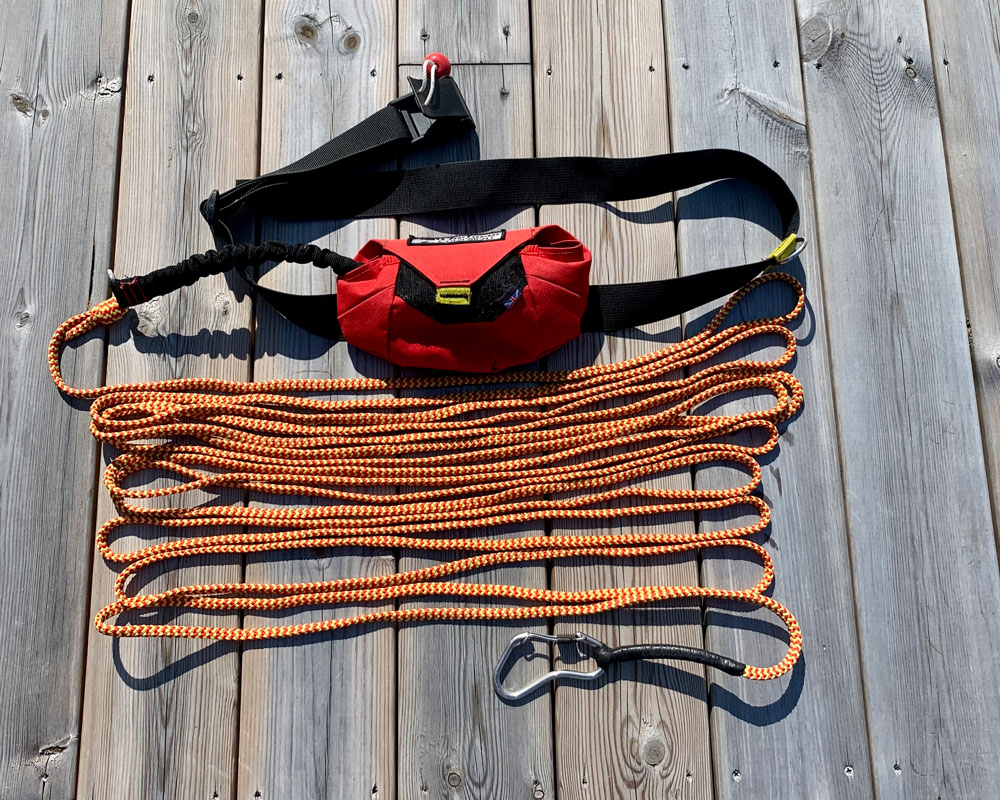 The Sea Bean comes in two lengths, 10m (1006 SEK) and 14 m (1126 SEK), and is an ideal choice for the recreational paddler who may not need to tow very often. The simple no-nonsense tow-line, designed to look like a Cornish Pasty, is ideal for most Swedish waters, the bag is small and easy to wear, the line is simple and comes without a float but with a kraken krab. This is towing system that Therese prefers to use both whilst coaching and on tour and so far it's proved to be superbly practical and effective.
Whetman contact tow
(price 550 kronor, inclusive of MOMS)
Having a contact tow on your foredeck means you can quickly connect yourself to another boat and tow it with its bow sitting beside the widest part of your kayak and it's widest part about level with your stern. This works well when recovering a kayak when someone has come out their boat and let go of it, or if you just need to make a short sharp push to help a paddler get past a headland or obstacle.
This contact tow has a stainless steel buckle and you can adjust it's length, useful if you want to drop the boat you are towing back a little. One of its other main uses (at least in Sweden) is to clip the boat to the shore when arriving into a marina or harbour. You can leave the loaded kayaks on the water and attach them to the rings that sailing yachts would normally tie onto! I also use the Contact Tow when making a short tow with my Guide tow-line, I attach the contact tow to the casualty's bow deck-lines and then run the rope through the second krab on the contact tow and back to the O ring on my guide tow. This avoids the risk of nylon running over nylon that would occur if you ran the line directly through the casualty's deck-lines.
Kraken carabiners
(price 150 kronor, inclusive of MOMS)
Good carabiners for sea kayaking are always hard to find. Climbing krabs are no good as they mustn't have a tooth or they snag the line. Carabiners tend to corrode might fast, especially on long expeditions and the best intentions to wash them in fresh water after use. The Whetman Equipment kraken carabiner has been designed specifically for sea kayaking and is very easy to use with one hand. It's slender stainless steel construction makes it the most corrosion resistant carabiner yet and by far the best one to fit to your tow lines.